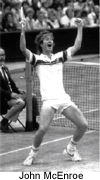 "I tried hard. In my darker moments however, I sometimes wonder why I went to the effort, because it ended up so badly. Sometimes¨I can't help it¨I feel as if I wasted my time. Ultimately, I have no one to blame but myself. I'm the one that chose that life, that wife."
John McEnroe burst into public prominence on June 28th, 1977 when he was eighteen years old and achieved the seemingly impossible. As an unheralded amateur with chubby cheeks and thick thighs, he arrived at Wimbledon to play the junior tournament, won three rounds of qualifying matches to gain entry into the main draw and proceeded to win found rounds against top professionals and reached the quarter finals of the world's greatest tennis tournament. Then, with behaviour the All England Lawn Tennis and Croquet Club had never witnessed before in its 100-year history, the young teenager from Queens, New York, beat his first seeded player, Phil Dent, in a tight 5 set match that took him to the semi-finals. There he was eventually beaten by another tennis legend, Jimmy Connors, in four sets. Nevertheless, it was an amazing achievement.
There followed an extraordinary but turbulent tennis career that took him to the Wimbledon singles final three years later (a losing match against Bjorn Borg which many consider to be the best match ever¨a five set thriller) and to his first Wimbledon title the next year. In the end this unusually talented tennis player won 77 career singles titles, including 7 Grand Slams; as well as 74 doubles titles, including 8 Grand Slams. Still an active player, McEnroe has developed into one of the world's most outspoken tennis commentators for the BBC and other international networks. This controversial autobiography¨his first¨written in his own folksy conversational style, gives readers an inside look at an awesome tennis career, insight into the grueling and lucrative tennis circuit, and some startlingly frank disclosures of his doomed marriage to the young American movie start Tatum O'Neill. Although no literary masterpiece, it is certainly good reading for any inquisitive tennis enthusiast.
But what is particularly interesting about John McEnroe's very one-sided rags-to-riches confessional autobiography Serious is the almost instantaneous tirade the book has incited from his ex-wife Tatum O'Neill. The tirade has taken the form of a series of interviews published in newspapers on both sides of the Atlantic. Frankly, the interviews are almost as good reading as the book itself. Tatum's revelations are explosive, and I certainly hope she was paid good money for her side of the story. (McEnroe was paid $1.25 million for the American rights alone, plus much more for the serialization rights). The truth about his drug taking, sexual manipulation, and bullying, are discussed fully by McEnroe's ex-wife and there are additional disclosures about their tempestuous eight-year marriage. After her $3 million marriage settlement Tatum O'Neill and McEnroe were granted joint custody of their three children. However, five years ago, after O'Neill's chronic drug addiction was exposed, the children began living exclusively with McEnroe and his second wife, the rock singer Patty Smith. Later she had to endure the humiliation of urine tests three times a week to prove she was free of drugs in order to have her children stay overnight with her. She had, she says, always managed to keep her drug addiction from her children¨except for one horrific incident when her seven-year-old daughter, Emily, came across a used syringe in her bathroom.
There is little doubt that John McEnroe set the tennis world alight with his tyrannical on-court behaviour¨a double act of technique and temperament. Tennis has never been the same again. Serious is an honest, revealing book about the rise of a gifted tennis player and what it takes¨dedication and ruthlessness¨to stay on top. Borg, Connors, Gerulaitis, Nastase, Hemin, Lendle, Sampras, Ashe, Agassi, Ivanisevic, the Davis Cup, are all discussed; as well, candid opinions are given of officials, tennis groupies, rock musicians, jealousy and hate.
"It all felt real and unreal at the same time. There was the hard work of travelling, practicing, and playing; then there were the cameras, the fans, the parties, the money. The girls. The partiesÓ."
And then 1984: McEnroe's second Wimbledon title. Many people say his 6-1,6-1,6-2 destruction of Connors in the final was almost certainly his greatest match ever. I was lucky to have been at Centre Court that day and it was a spell-binding masterful performance. McEnroe hit no less than seventy-four percent of his first serves in the match, with ten aces and no double faults. And amazingly, it was a match in which he had only three unforced errors. Connors was simply outplayed and left stumbling and bewildered. Later that year, at his peak, McEnroe beat Ivan Lendl in the final of the U.S. Open. It was the last Grand Slam title he would ever win.
McEnroe's rise to the pinnacle of tennis fame had taken from the late 1970s to 1984¨a little over eight years. But then began a decline as gradual as his rise had been meteoric. These were unhappy years for McEnroe, ending with his defeat by Andre Agassi¨the eventual winner¨in the 1992 semi-finals at Wimbledon. It was soon after that he met Tatum O'Neill. At that time he was 25 years old. She was only 21.
With all its faults and one-sidedness, this is a sincere book about the inside world of tennis by one of the most talented players the world has ever seen. Life at the top is very short indeed¨but, as McEnroe has proved, and it shows in this tell-all book, he is a survivor. Although the unhappy years of decline took a serious toll on his ego, as must have happened with all other athletes in their decline, McEnroe somehow seems to have bounced right back into the public eye with his effusive and very personal broadcasting skills. Today he lives comfortably with his new wife Patty Smyth in a splendid Manhattan apartment with their brood of six children and is not only enjoying his new-found media fame but success as an up-town Art Gallery owner as well. His rock and roll days are over. And do you think this petulant one-time tennis genius regrets his roller-coast day in the sun as he now laughs all the way to the bank? You can't be serious! ˛