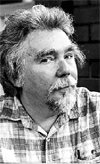 When Ted Plantos died late in the winter of 2001 he left behind eleven poetry collections, two children's books, and a volume of short stories. What he did not leave behind was an established literary reputation; the academy had never recognized Ted and would probably not have approved of his writing. The question, then, is who was Ted Plantos?
Ted started life in the old Cabbagetown neighbourhood in what was then Toronto's working-class east end. As he grew up he saw his surroundings demolished. Half of his 'world' was bulldozed to make room for the poverty ghettoes in and around Moss Park and Regent Park while the other half became sand-blasted housing for the professional classes. This destruction of his native place stayed with Ted his whole life and forms the focus of The Shanghai Noodle Killing, the short story collection published mere months before his death.
His first collection, The Seasons Are My Sacraments, presented poetry written during the late 1960s and early 1970s. As might be expected, the book reflects the typical concerns of its era. It also reflects Ted's Catholic sacramentalism, another theme often in the background of his work. Apparent from his beginnings, and not unrelated to his sacramentalism, is a fierce love of both the inner city and nature. If Renaissance Christian writers ruminated about tensions between the Heavenly City and the Earthly City, Ted saw an antithesis between the Urban City and the Natural "City"¨be it in Muskoka, the Green Mountains of Vermont, or Wordsworth's Lake District. Len Gasparini (writing in Books in Canada) observed that Ted's "poems are often beatitudes." There is a religious feeling at the heart of many pieces.
In his middle period, Ted was involved with Milton Acorn and Robin Mathews in their venture, Steel Rail Educational Publishing. With Steel Rail he created the second and largest of his three anthologies of People's Poetry, Poems for Sale in the Street, a book that gathered together the work of such younger poets as Mary di Michele, Greg Gatenby, Gwen Hauser, and Robert Priest. At this time he published his most "Cabbagetown" volume of poems, The Universe Ends at Sherbourne & Queen, almost a poetic parallel to the stories in The Shanghai Noodle Killing. Although present throughout much of his poetry and fiction, social justice issues are particularly vivid in his work with/for Steel Rail. This is perhaps his best known period and one in which he was often viewed as a protegT of Acorn. For his part, Ted usually played the lamb to Acorn's tiger (as Ted observed himself in "Sitting With Acorn" in This Tavern Has No Symmetry).
But it is Ted's third period that truly sets his work apart from what has come to be seen as late-twentieth-century Canadian poetry. He transcended both the narrow ideologies of his earlier years ¨Trotskyism and nationalism¨as well as the existentialism that underlies political liberalism and literary post-modernism. This rejection of the zeitgeist went hand-in-hand with his adoption of the spirit of Romanticism as found in the works of Wordsworth, Coleridge, and Shelley. Like many other writers whose world-view was coloured by Catholic theology, Ted tended to write from his heart, not from his head. In one of Ted's finest poems, when Shelley is cremated on the beach his heart rises from the fire unscathed. Also from this final period come poems that grew from his study of Dante and Baudelaire. While these pieces certainly lack the attractive simplicity of "Stan's Complaint" (The Universe Ends at Sherbourne & Queen) and "John's Grill Boogie"(Mosquito Nirvana), they offer a thoughtful response to the impoverished spirit of modernity.
Much of Ted's early work shows the influence of his mentors, Milton Acorn, Al Purdy, and other representatives of the People's Poetry movement. But this stanza from "Up All Night With Baudelaire", the closing piece in Daybreak's Long Waking: Poems Selected & New, could hardly have been written by them:
The deity of the poem, heaven gone to hell
What creator, celestial or otherwise,
can make luminous this farce of human earth
when all about the shattering planet, barbaric lust
bloodies all hope and buries forgiveness
with the bodies of the innocent and lost
Aside from the fact that the poem does not scan, it could have been written long before the twentieth century. By going back for inspiration to Baudelaire, Dante, and the great English Romantics, Ted gained access to a language and a spiritual vision denied most modernists.
The stories in The Shanghai Noodle Killing also come from Ted's final period. While they resemble the Cabbagetown poems of his time with Steel Rail, many display a maturity of understanding earned by years of study.
Bruce Hunter has called them "People's poetry in prose", and that is true; but the better pieces are more than that. In "Ragtown" (the Cabbagetown Ted grew up in) he has the old ex-boxer Scotty say "I know there's a human spirit, and we humans are not just organisms and machines. Our spirituality is all we really have. There is a poverty in society worse than any slum; the poverty of the spirit." Ted seeks to release that spirituality not in the eternal night of existential angst but by the light that falling on the book reveals words that are more than words. ˛
14 books/chapbooks by Ted Plantos:

1. The Seasons Are My Sacraments (poetry, 1972)
2. She Wore a Streetcar to the Wedding (poetry, 1973)
3. All the Easy Oils of Energy (poetry, 1974)
4. Vigil (poetry, 1976)
5. The Light Is On My Shoulder (poetry, 1977)
6. The Universe Ends at Sherbourne & Queen (poetry,1977)
7. This Tavern Has No Symmetry (poetry, 1979)
8. Passchendaele (poetry, 1983)
9. Heather Hits Her First Home Run (fiction for children, 1986)
10. At Home on Earth (poetry for children, 1992)
11. Mosquito Nirvana (poetry, 1993)
12. Dogs Know About Parades (poetry, 1993)
13. Daybreak's Long Waking: Poems Selected & New (poetry, 1997)
14. The Shanghai Noodle Killing (fiction, 2000)