Unlike most books, this one has an odd, even challenging aura: pale, tall, and narrow, with sideways printing on the front cover. In a way its exterior mirrors the women artists author Sharyn Udall chooses to examine: each one eccentric, tenacious, original. Inside is a treasure of first-rate illustrations, and a wealth of engaging commentary. An art historian living in Santa FT, Sharyn Udall is geographically close to two of her subjects, the American Georgia O'Keeffe and the Mexican Frida Kahlo. Udall also brings BC painter and writer Emily Carr into the mix. She examines this unlikely trio¨the prim and proper Carr ever the odd woman out¨in fresh, provocative ways.
Plunging into the preoccupations of each artist with the places and myths that spoke to her, Udall makes her case for similarities, if not direct influences, among these women and their art. (She leaves most of the biographical details for later.) Focussing on the theme of "a special connectedness to place" with roots in a specific region of the Americas, she points out that each artist then went on to reinvent that place in her work. Beginning with the most iconographic of the three, she presents us with Frida Kahlo. A painter whose self-preoccupation dominated her art, Kahlo would doubtless have approved.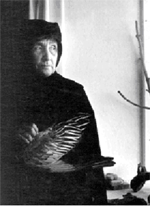 Georgia O'Keeffe

Udall illuminates the Mexican nationalism that inspired Kahlo to revivify pre-Columbian totems in her paintings, as she combined her search for a national identity with her own Amerindian-European heritage. Although we don't get a full picture of Kahlo's life at first, some of her famous quirks burst into the discussion, notably, her habit of keeping in her home human fetuses exhibited as her "children" in formaldehyde-filled bottles. This detail pops up in a learned exposition of her preoccupation with water images and various figures from myth, including a weeping woman and a devouring Aztec goddess. Kahlo's art may insist on a personal dimension¨including her always-deteriorating health and her tumultuous marriage to Diego Rivera¨but its greatness does not depend on it.
Interestingly, all three artists were childless, referring to their paintings as their children, but Udall's approach neither reduces them nor their work to mere biology. What becomes clear in her discussion of Kahlo is the astonishing range of intellectual sources she drew on, that she "assembled her mythic references with great care and calculation" before adapting them to her own devices. In the same way that she claimed surprise when "discovered" as a Surrealist by AndrT Breton, Kahlo knew what to use and how to use it, to further her artistic ambitions.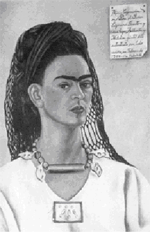 Frida Kahlo, Self-Portrait, 1940

Thus Udall sets the stage for Emily Carr, the spinster from the North, who seems to need more of an introduction¨perhaps to Udall's American and British readers¨than does Kahlo. How else to account for this: "The vast tracts of Canada's uninhabited wilderness had been named but by no means tamed"? Thankfully, Udall does not further belabour the vast wilderness theme. She focuses instead on Emily Carr, deep in the woods, astonished by the powerful totem imagery she found there¨eerily similar to Kahlo's Aztec ogres. Yet Carr, the child of English immigrants, has been criticized for cultural appropriation in ways that Kahlo, with her Amerindian roots, has not. (She thought she was making a straightforward record of a disappearing culture.) Udall defends her: "These were cultural attitudes, so pervasive in her time and place that Carr could hardly escape them." She further argues that Carr's "responses to native cultures were sensitive and complex, often transcending the widespread ethnocentrism of her day." Proof comes from Carr's self-castigation after she made touristy pottery using Indian motifs. "I hated myself for prostituting Indian art." Carr's struggle was essentially Canadian¨neither European nor native; she sought all her life to answer the question, "Where is here?"
So strong was Carr's identification as an outsider (like the Indians whose art she admired) that when her totem paintings failed to get government funding, she nursed her grievance for years. Yet looking back on her early work, she found it too factual, too rigid¨she next sought to capture the "big spaceness" of the West, and did. This links her with Georgia O'Keeffe, a mid-westerner by birth who loved the old stories of the frontier and ended her long life in remote places in New Mexico, painting rocks, skies, skeletal remains¨nature in it all its forms. Very successful in her own lifetime, the ambitious O'Keeffe capitalized on her own American-ness, aided by her husband and promoter, Alfred Stieglitz. She acquiesced, even colluded with him, in his false claim that three of her paintings had been sold for vast sums to European buyers¨a clever marketing strategy.
The history of personal contact between Carr and O'Keeffe and Kahlo is tantalizing. The latter two met, but did they also flirt, or was that just a joke of Frida's? Did Stieglitz name his 1925 "Seven American" artists show after the more established Group of Seven? Udall makes a good case for it. Carr visited Stieglitz's New York gallery in 1930. There she and Group of Seven artist Arthur Lismer saw O'Keeffe's painting "The Lawrence Tree." Carr and O'Keeffe "apparently" discussed the painting, which O'Keeffe had painted at the D.H. Lawrence ranch outside Taos, "at some length". Carr later wrote in her diary about Lawrence's description of the same tree, but dismissed it as being nothing like "my idea of pines." For Udall, personal connections among the three women remain interesting but hazy. Instead she makes a strong case for the cultural influences they shared.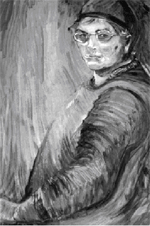 Emily Carr, Self-Portrait, 1938

So the true delight of this book lies in the energy and unexpectedness of Udall's discussions of the points of intersection in the works of these pioneering artists. When O'Keeffe painted the Spanish church at Ranchos de Taos, she made it blend into the living brown earth. Carr in the same year (1929) painted her "Indian Church", white and stark against the living green forest, where, she confessed she felt "watched." Although O'Keeffe is known mostly for painting the bones of living things, she also painted Kachinas, gods of the Hopi and Zuni peoples, some benevolent, others not so¨just like Carr's totem figures. Kahlo's Aztec goddesses blended their own fierce presence with the ongoing drama of her life. Kahlo and Carr were both avid fans of poet Walt Whitman, who in turn influenced D.H. Lawrence's understanding of indigenous America. Udall plumbs the later work of Lawrence as an influence on O'Keeffe¨who intimately knew his Taos crowd¨and shows how an earth-centred philosophy spread its wings in the work of each woman.
As she draws together these connecting threads, Udall makes us feel that we are guests at a particularly brilliant symposium. Anchored as they are in the history of thought¨from Merleau-Ponty to Eliade to Frye to Atwood¨her informed opinions about these women and the ways they used their own personas to present themselves to the world provide fresh ways of seeing them and their art. Yet each of these artists has become, Udall admits, an icon, frozen by the very weight of her legacy. Once daring and original, each artist now suffers from a surfeit of familiarity. By sharing her meticulously researched opinions with us, about everything from complex mythologies to pet monkeys, Udall allows us to see them as still-fresh, still-evolving creators. It's nothing less than they deserve. ˛