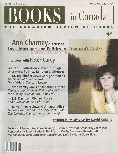 Note from Editor

Editor's Note
by Olga Stein
We're pleased to bring you the first issue of 2002. The Winter issue is full of entertaining reviews, but it would be difficult to overlook the somber note in many of the pieces. A large number of contributors have chosen to reflect on the events of Sept. 11, 2001 in the US.
Read more...
---
Book Review

Vancouver, Weather, and Seven Pages Missing
by Rob McLennan
Vancouver poet Ryan Knighton has been known to west coast readers for some time, either as recently-outgoing editor of The Capilano Review, as a contributor to Hammer & Tongs: A Smoking Lung Anthology (1999, Smoking Lung Press), or as a member of Vancouver's informal TADS 'zine and poetry group, that includes Chris Turnbull, Jason le Heup, George Bowering, Wayde Compton, Jamie Reid and George Stanley.
Read more...
---
Book Review

Callaghan's Vision of Russia
by Frank Westcott
The painter paints. The writer writes. The poet, when he is good, paints with his words drawing you into his work. The pallet is experience, the oils, words evoking our imagination's canvas. Barry Callaghan in Hogg ,The Seven Last Words, brings his poet's brush to Hogg's landscape of 20th century Russia.
Read more...
---
Book Review

Point de vue
by David Homel
Marie-Claire Blais, in her early sixties now, has been remarkably true to her vision from book to book, and that vision is of a tragic world delivered in fabulously lyrical prose. The crime rate may be falling (a dirty little secret our governments don't want us to know, because cultivating their citizens' collective sense of insecurity is one of their goals), but in Blais' fiction, man is still wolf to man¨and woman.
Read more...
---
The Corrections
by Jonathan Franzen
HarperFlamingo Canada
568 pages $39.95 cloth
ISBN: 0002005093

Book Review

Franzen's Sad American Family
by Joel Yanofsky
Jonathan Franzen's The Corrections is probably longer, at 568 pages, than any novel about the dysfunctional American family has to be. After all, how much more do we need to know about the Lamberts than that they live in St. Jude, a mid-western suburb named for the patron saint of hopeless causes; or that Alfred, a.k.a.
Read more...
---
Book Review

The Red Divide
by Nikki Barrett
Don't try and keep your Believers distinct from your Unbelievers while reading Zakes Mda's vibrant and vital novel. Once you set aside that maddening task, you will enjoy the pluck and bounce, the echoes and reverberations, of the parallel plot strings of The Heart of Redness. You will also be well on your way to grasping the heart of this playful, wily and evocative novel where skepticism itself is taken to "the heights of religion.
Read more...
---
The Russlander
by Sandra Birdsell
McLelland & Stewart
350 pages $34.95 cloth
ISBN: 0771014500

Book Review

Mennonite Life Shattered in Tsarist Russia
by Anne Cimon
The Russlander, Sandra Birdsell's third novel, was a finalist for the 2001 Giller Prize. In 1989, her novel The Missing Child won the W.H. Smith/Books in Canada First Novel Award. Her short stories have been widely published and her most recent collection The Two-Headed Calf appeared in 1997. In The Russlander, Birdsell delves deeply into her Mennonite heritage
Read more...
---
Book Review

Dirty Ditties from Feline Mouths
by Shane Neilson
Bill Richardson is no amateur punster, having been seasoned by years of on-air broadcasting experience as host of a much-bepunned early-afternoon CBC variety radio program. A veteran of several novels, his prose has garnered the Leacock Medal by virtue of its gleeful use of literature's lowest form of humour.
Read more...
---
Book Review

A Study of Surfaces
by Olga Stein
Towards the end of Rousseau's Garden, an exhibit of photographs, taken by Claire Symons, the novel's protagonist, of the grounds of an old chateau outside of Paris, draws appreciative comments from the onlookers. The owner of the chateau begins to comment, "Everything appears as it is, quite ordinary at first glance..." Another member of this audience adds, "The camera is a fluid way of encountering that other reality, a way of seeing what we ourselves perceive only as shadowy sentiments...
Read more...
---
Book Review

A Match Not Made in Heaven
by Richard B. Davis
Can a Darwinian be a Christian? "Absolutely," says Michael Ruse. Ruse is perhaps best known for his participation in the infamous Arkansas "Scopes II" trial in 1981, where he provided expert testimony on behalf of the ACLU in their attempt to strike down a law requiring balanced treatment of creation and evolution in public schools. (The ACLU won their case.) For many years professor of philosophy at Guelph University, Ruse now holds the Lucyle T.
Read more...
---
Book Review

NAFTA From An American Perspective
by Fred A. Reed
No ignorance is greater than American ignorance of all that lies beyond its borders. The fall seems never to bring awareness, only the lament of continually shattered innocence. There are exceptions to this glum rule, however. Because it claims to challenge ignorance "Here", New York Times correspondent Anthony DePalma's survey of the radical reconfiguration of the continent set in motion by the North American Free Trade Agreement merits attention in these dire times.
Read more...
---
Book Review

Insane Asylums¨A History of Debate
by Douglas Brown
Committed to the State Asylum is a triumph of scholarly precision; it establishes a corrective example of how historians of psychiatry might integrate widely divergent claims on their attention into a coherent, inclusive approach to the history of the insane asylum.
Read more...
---
Book Review

A One-Party Affair
by Mark Wegierski
In this book, Jeffrey Simpson treads cautiously over ground first broken by others. Stephen Harper and Tom Flanagan, for instance, wrote a cover article for The Next City (Winter 1996/97) titled "Our benign dictatorship: Can Canada avoid a second century of Liberal rule?" Before discussing the work as a whole, I'd like to touch on the book's various chapters. In the first chapter, "Prime-Ministerial Government," Simpson examines the various formal and informal aspects of the system.
Read more...
---
Book Review

Michael Taube
As most BiC readers have discovered, I am on the right of the political spectrum. In terms of political ideology, I am a fusionist, or a follower of the late National Review senior editor Frank Meyer's theory that blends elements of conservatism and libertarianism. Briefly, this means three things: I am a conservative with libertarian leanings; I tend to be more of a fiscal conservative than a social conservative; and I have more than a mild interest in classical liberal texts.
Read more...
---
The Book of Eve
by Constance Beresford-Howe
McClelland & Stewart
198 pages $19.99 paper
ISBN: 0771011059

Book Review

Reinventing Retirement
by Heather Gale
Which kind of retirement would you choose: a secure, middle-class existence surrounded by familiar, much-loved objects, yet confined to dull servitude nursing your cranky, arthritic spouse¨or, an unplanned escape into unpredictability and poverty, an adventure characterized by the loss of your former life and of all that you have known yourself to be? Eva Carroll, the heroine of Constance Beresford-Howe's novel The Book of Eve, opts out of a safe retirement at the age of sixty-five, leaving b
Read more...
---
Book Review

Vengeance in a Red Parka
by Cyril Dabydeen
This book is aptly titled a "father's revenge", though it may also be about a son's revenge. The context is Montreal's Greek community and immigrant angst in the midst of Quebec's federalist-separatist tussle. In this crime novel described as "disturbing," we do see some disturbing events. A mysterious figure wears a red parka and perpetrates dark, foul deeds. And there are twists and turns, sometimes too surprising, even comic. The novel is Guernica Editions' Prose Series 58.
Read more...
---
Mr. Phillips
by John Lanchester
McClelland & Stewart
247 pages $19.99 paper
ISBN: 0771045905

Book Review

The Anal and Retentive Mr. Phillips
by Gerald Lynch
The eponymous Mr. Phillips is an accountant at loose ends for a day in London, England. Mr. Phillips is also something of a trick narrative in that key information is withheld till a quarter of the way in (on reviewer's principle I won't give it away).
Read more...
---
A Far Time
by J.A. Wainwright
Mosaic Press
198 pages $20 paper
ISBN: 0889627584

Book Review

Traversing A Cultural Era
by Raj Mehta
A Far Time, Wainwright's second novel, is anchored in a romantic relationship between Jake and Karen. There are other intimate interludes, but it is Jake's rankled fascination for Karen that comes to forge a link between his desire, and over the course of the novel, his faded past. Jake's a young writer and Karen is a seventeen-year-old Leonard Cohen enthusiast at the beginning of the novel.
Read more...
---
Book Review

Atwoodiana
by Kathryn Kuitenbrouwer
Some things should not be collected¨a gun collector could, for instance, be accused of stockpiling, warmongering. But people will and do gather objects to them, particularly books, and there are certainly bibliophiles who will want this one too. Approached separately, these mostly feministic musings by Margaret Atwood must have been witty in their contrivance, chortlingly satirical, etc., but together they feel like the same vituperative joke deconstructed ad infinitum.
Read more...
---
Being Fiction
by John Moss
Tecumseh Press
302 pages $22.95 paper
ISBN: 1896133258

Book Review

Fiction¨The Art of Conjuring Reality
by William Bournemouth
For William Shakespeare, it was a fairly straightforward proposition. To be or not to be, that was the question¨being or nothingness, existence or annihilation. John Moss' title, Being Fiction, suggests a slightly more complex approach. The power of fiction, Moss' stories suggest, upsets this tidy opposition by conjuring up a state that is neither straightforward presence nor absence, neither real nor unreal but somewhere in the less easily imaginable in-between
Read more...
---
Book Review

Di Cicco is back
by John Oughton
The rumour is true, poetry fans: Di Cicco is back. Until this new book, his career of ten books from 1975 to 1986¨resembled Rimbaud's: a spurt of brilliance and productivity, then silence. Both lived and wrote in a take-no-prisoners style. But here the analogy ends: while Rimbaud explored his heart of darkness, trading guns and ivory, Di Cicco's parabola aimed at faith. He lived in a monastery, and then was ordained a Catholic priest. While a surprise, this was not unprecedented in poetry.
Read more...
---
Book Review

Romantic Love Fares Better
by Geoffrey Cook
Brian Day's first collection of poetry, Love is Not Native to my Blood, explores the traditional poetic ground of myth and eros, and can be summed up in the story of Narcissus. Nothing is more native to the blood of Narcissus, however, than love, granted it is a love of a rather limited scope¨precisely the kind of perspective with which Day's collection leaves a reader
Read more...
---
Remembering
by Eric Kierans and Walter Stewart
Stoddart
288 pages $34.95 cloth
ISBN: 0773732888

Book Review

A High Achiever
by Clara Thomas
In those happy days when thousands of Canadians listened to Peter Gzowski's Morningside faithfully, the peak of enjoyment for many of us was his weekly conversation with the Three Wise Men, Dalton Camp, Stephen Lewis and Eric Kierans. Ostensibly conservative, N.D.P. and Liberal in their opinions, they were far more flexible than that categorizing suggests. Their conversations, often passionate arguments, were and remain a high point of CBC Broadcasting.
Read more...
---
Book Review

America, America. Essays by George Steiner and Gore Vidal
by T. F. Rigelhof
If the "crusade" against the daemonic Osama Bin Laden and Al-Qaeda in the name of "saving civilization" with "infinite justice" (as George W
Read more...
---
Book Review

Spinoza, the Radical
by Stan Persky
For better than a hundred and fifty debate-charged years, beginning around 1650, the intellectual movement known as the Enlightenment changed Europe's mind about almost everything worth thinking about.
Read more...
---
Book Review

An Echo From An Empty Place
by Barry Allen
One point made very forcefully, even definitively, by Harris Athanasiadis is that George Grant was a Christian theological thinker of a peculiar stamp. His thinking on topics from Canadian nationalism to mass society and technology is passionately informed by the theological perspective its progenitor, Martin Luther, called the theology of the cross. A theology of the cross epitomizes many meditations on the extraordinary affirmation of Christians, that God died on the cross.
Read more...
---
Book Review

A Political Animal
by Christopher Ondaatje
Anyone who has read John Le Carre's recent novel The Constant Gardner, will get a frightening insight into the politics of Kenya today. It is a book banned in Kenya. One wants to know more. I certainly did. And Richard Leakey's new book Wildlife Wars about the extraordinary struggle of a single dedicated white Kenyan to sort out the turmoil in the Kenya Wildlife Service is a fascinating story interlaced with political intrigue.
Read more...
---
Book Review

The Martha Billes Story
by John Oughton
One of the few sure-fire tests of a genuine Canadian is knowing what the term "double-double" mean. Another is storing in your wallet or glove box currency adorned with a red triangular logo and thrifty tam-sporting Scot: Canadian Tire money. The Canadian Tire Corporation, CTC or "Tire", as insiders call it, is a rare phenomenon in Canadian retailing. Brothers J.W. and A.J.
Read more...
---
Interviews

Meditating on Gardens¨Interview with Ann Charney
by Padma Viswanathan
Ann Charney has published one previous novel, Dobryd, and a book of reportage, Defiance in their Eyes: True Stories from the Margins. She has received awards for fiction and non-fiction, including two National Magazine Awards, the Chatelaine Fiction Prize, and the Canadian Authors' Association Prize. Charney spoke with Padma Viswanathan on November 28th in her home in Montreal.
Read more...
---
Interviews

A Respected Outlaw. An Interview with Peter Carey
by Nancy Wigston
Australian writer Peter Carey was born in Bacchus Marsh in 1943. After flunking out of first year university, where he was a chemistry major, he wrote ad copy for Volkswagen before embarking on his remarkable career in fiction. Influenced by Joyce, Faulkner, and Beckett, Carey writes award-winning fiction that spans the genres. Among his eight novels are the Booker Prize-winning Oscar and Lucinda, The Tax Inspector, The Unusual Life of Tristan Smith, Illywhacker, and Jack Maggs.
Read more...
---
Letters to Editor

Letters to the Editor
Dear Olga Stein, I am a subscriber to Books in Canada mainly because you do not marginalize poetry. But I enjoyed your November/December issue so much, the article by Carmine Starnino and especially that by Robyn Sarah and John Unrau, that I had to say thank you. So Thank You, Ed McFarlane Dear Editor, I read with interest Carmine Starnino's essay in the latest Books in Canada and have a few comments to make.
Read more...
---
Prose/Poetry

Poems and Stories to Place on Graves
by Michael Hurley
poems to illuminate caves poems to place on graves poems that shocked poems that made you turn your head poems that excited poems of solace poems of condolence discomforting poems poems like stones poems like forceps poems to breach walls ¨ from "The Assassination of the Future," Rough Landing Fasten your seatbelts.
Read more...
---
Prose/Poetry

An Accidental Monument
by Chris Jennings
In his introduction to Louis Dudek: Essays on His Work, George Hildebrand claims to have avoided "versions of monumentalization" because "[t]his poet is no monument; rather his life's work, ongoing, is a continuous process¨a growth, a flourishing of mind". With Dudek's passing on 22 March 2001, Hildebrand's acclamations have been forced into the wrong tense and his reminder of Dudek's ongoing work now reads as an insistence on the completed work's continuing relevance.
Read more...
---
Prose/Poetry

Double Exile and Montreal. English-Language Poetry
by David Solway
And what's the news you carry¨if you know? And tell me where you're off for¨Montreal? Robert Frost, "An Encounter" It is no accident that some of the best writing in English Canada is to be found in Montreal and that some of the finest poets in the country reside and work within a radius of a few blocks of one another. Michael Harris, Carmine Starnino, Robyn Sarah and Peter Van Toorn have lived "in town" from the very beginning of their literary careers.
Read more...
---
First Novels

First Novels
by W.P Kinsella
A finalist for the Giller Prize, River Thieves, by Michael Crummey (Doubleday Canada, 335pp, $34.95, ISBN: 0385658109) is a historical novel set in Newfoundland, primarily in the early 1800s. David Buchan, a British naval officer has orders to make friendly contact with the Beothuk Indians, known as Red Indians because they dye their bodies with ochre clay. He approaches the Peyton family for help; John Sr. is a fierce old man known to hate the Indians, while his son John Jr
Read more...
---
St. Patrick's Bed
by Terence M. Green
Forge Books Tom Doherty Associates
224 pages $31.95 cloth
ISBN: 0765300435

Brief Reviews

Brief Reviews
by Barbara Turner Kinsella
Fiction In St. Patrick's Bed (Forge Books, Tom Doherty Associates, 224pp., $31.95 cloth, ISBN: 0765300435), Terence M. Green's autobiographical protagonist embarks on another journey into America in search of family roots.
Read more...
---
Brief Reviews

Brief Reviews
by Janine Flaccavento
Fiction Margaret Sweatman's latest novel, When Alice Lay Down With Peter (Knopf Canada, 457 pages, $34.95 cloth, ISBN: 0676973159), begins at the end of the narrator's life¨fitting for this cyclical book. The Prologue opens with Blondie, the daughter of Alice and Peter, in her garden in late May, describing the land, her garden, and her 109-year-old body as she lays herself on the warm, fragrant grass, and dies. "I'm dipping my pen into the Red River, always at the same spot.
Read more...
---
Moncton Mantra
by Translated by Jo-Anne Elder
Guernica Editions
124 pages $15 paper
ISBN: 1550711369

Brief Reviews

Brief Reviews
by Janet French
Fiction Moncton in the 1970s was a racy place for Gerald Leblanc. Leblanc's essentially autobiographical novel Moncton Mantra (Translated by Jo-Anne Elder, Guernica Editions, 124 pages, $15.00, paper, ISBN: 1550711369) details the bumpy road of a young Acadian writer coming to be amidst obstacles aplenty. Moncton Mantra is intended to explore the identity struggle Leblanc experienced in his youth.
Read more...
---
Brief Reviews

Brief Reviews
by Gordon Phinn
Reportage The day I began to compose myself in order to write this review of Another Day of Life (Random House, $18.00, 144 pages, paper, ISBN: 0375726292), the author, Ryszard Kapuscinski's introduction reminded me that the war in Angola has been grinding on since 1975, and the Globe and Mail noted that a bomb planted on a train track by UNITA rebels had halted an express, enabling them to attack and kill approximately 252 people.
Read more...
---
Stripe
by David Rose
Black Bile Press $6 paper
ISBN: 096800976X

Brief Reviews

Brief Reviews
by Harold Hoefle
Short Stories Breadth of material and diction¨these qualities in a story collection convince you of a deft authorial hand, an ability to weave a fictive dream that takes you from world to world. In Stripe (Black Bile Press, $6
Read more...
---
Brief Reviews

Brief Reviews
by W. P. Kinsella


Fiction

The comic novel has few practitioners and even fewer successful ones. Ernest Hekkanen of Bridge Over the Tampere Rapids and Other Finnish Stories, in his 28th book, The Misadventures of Bumbleberry Finn (New Orphic Publishers, 201pp, $18.00 paper, ISBN: 0968731759) delivers plenty of laughs along with outrageous characters and plot lines. The Bumbleberry Finn of the title is Toivo Toivonen who lives near the town of Thunderstruck on the shores of Lake Superior
Read more...
---
The City of Yes
by Peter Oliva
McClelland & Stewart
336 pages $17.99 paper
ISBN: 077106862X

Brief Reviews

Brief Reviews
by Kathryn Kuitenbrouwer
Fiction Peter Oliva's The City of Yes (McClelland & Stewart, 336 pages, $17.99 paper, ISBN: 077106862X) is an esoteric travelogue evoking Japan in all its splendour and perplexity. Oliva's narrator is an outsider, perched in bemused authority and drawn inexorably into the shifting stream of that elusive thing Japan. As a teacher of English his first task is to dress up as Santa, roam the schools and hand out sweets
Read more...
---
Children's Books

Children's Books
by Theo Heras
The Quade sisters drive from Sudbury to Port Desire to claim an inheritance from their paternal grandfather's estate. Demure Helen, twenty-two, is the eldest, dresses in black and is trying to hold the family together. Jeannie, in the middle, is seventeen; she has big hair and a bigger attitude. Fourteen-year-old Aggie has a shaven head, a penchant for vintage clothing and worries that her sisters will desert her. She sees everything around her as if it were a film.
Read more...
---
Children's Books

Children's Books
by Mary Ann Cree
Canadian history is hot stuff these days and a number of publishers have produced some great books that open a window on some part of our past with explorations of Canadian greats in the fields of sports and medicine, Canada's role in World War I and Canadian "First" being among the topics explored. Two of the recent crop present fictionalized accounts of real Canadians¨one a well-know heroine, and the other a less well-known doctor who was a hero in his own quiet way.
Read more...
---
Children's Books

Children's Books
by Jeffrey Canton
For some time now, I've been interested in the link between the books we read as children and their effect on our reading lives as adults. Why, I ask myself, does the media have such disdain for contemporary children's literature when surely it's the books that we read as children that set us seeking more and more imaginative paths as adult readers. Isn't a steady diet of great children's books just the thing for an appreciation of adult books? Writers, I've discovered, think so.
Read more...
---